Helperbird for
Firefox
Delightfully intuitive and easy-to-use design, Helperbird is your all-in-one extension that provides personalized support to make web pages, PDFs, and documents more accessible and productive to your needs.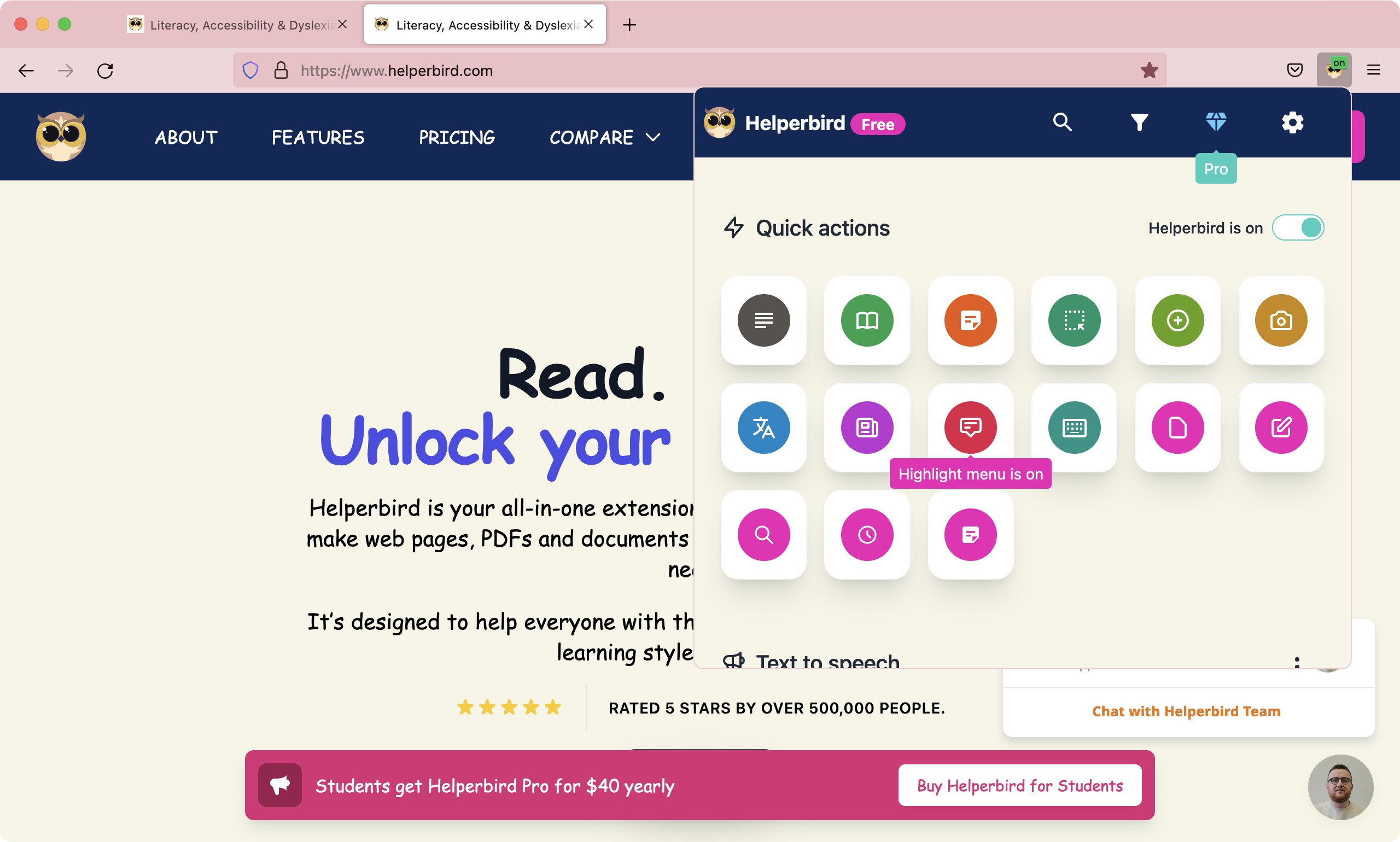 TRUSTED BY OVER 1,200,000 FORWARD-THINKING USERS





Level up your study & research skills
Leave sticky notes or use our highlighter to highlight important text on websites, documents, pdfs, ebooks and everything else on the website. Want to read a article later? Save it to your reading list. Helperbird brings all the tools you need to bring your study skills to the next. Supports Google Classroom, Word, Google Docs and Slides.
"I have been trying to find ways to make my child happy to go to school again, and someone recommended helperbird. She loves helperbird, and she is now much happier about the idea of returning to school. I think this might be a game changer, as they do so much web based schoolwork and research. She says "they really understand people with dyslexia."
Customize & View clutter-free web pages!
Helperbird's Reader mode features strips away clutter like buttons, ads, background images, and videos while also letting you customize the layout and theme to fit your reading preferences. Fonts include Lexend, Open dyslexic, and 18 others. Rulers, text to speech, and more to help you read any webpage with dyslexia support.
Reading & writing tools
English, German, Spanish and French word prediction at your fingertips on every website as you type. That's right even Google Docs. Along with our Reader Mode, Dictionary, Text to speech with over 30 voices, Immersive reader, and 28 other features to help you with your reading and writing.
"Have an amazing collection of assistive tools that have benefits for everyone. For me, the combination of Microsoft's Immersive Reader and Apple's reading machine voice (US Alex) makes Helperbird my first choice for processing web content."
Listen to any part of a Webpage and Google Docs
Turn text into lifelike natural speech. Helperbird can read aloud the content of any web pages, ebooks, Google Docs, and pdfs with natural-sounding voices. With our natural award-winning text to speech.
Support learners with learning disabilities
Helperbird is built to help everyone with and without a learning difficulty. Helperbird offers award-winning support for dyslexia, reading support, colorblindness, writing support, learning second langue learners. Everyone is different and everyone has their way to learn. At Helperbird we want to support them but giving them the tools they need. We recommend checking out Immersive reader.
"I purchased this for my daughter who has been having a lot of difficulty accessing the online work set remotely by her teachers during our National Lockdown because of Covid-19. Her dyslexia was really hindering her ability to complete tasks and keep up which in turn led to increased anxiety levels...a really horrid place to be in during a global pandemic! Helper bird has been a vast help and I fully recommend it and wish more schools knew about it. Thank You Helper Bird."
Features at glance
Helperbird offers a range of power tools to customize the web to your needs to improve your accessibility, reading, writing, studying, and productivity needs. Game-changing features like Reader Mode, Immersive Reader by Microsoft, Dyslexia support (Fonts, rulers, overlays), text to speech with natural voices, text extracting, translations, word prediction, voice typing, and 28 other features.
Award winning software
Comparing accessibility and learning software
Here at Helperbird, we believe in choice, some people love iPhones over Androids others love Ford over Volkswagon. There is no one solution for everyone but see why over 900,000 people use Helperbird.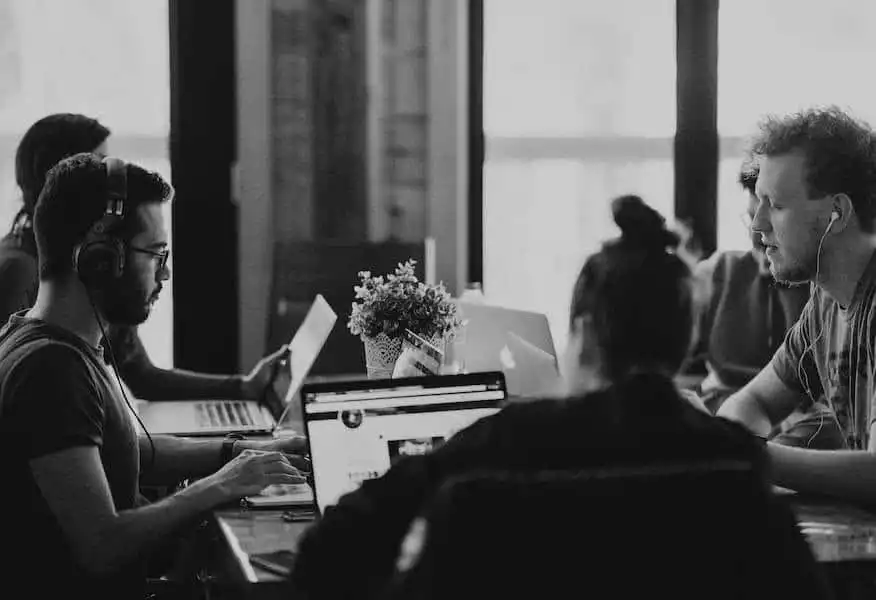 Helperbird Metrics
We help change people's lives in the workplace, school, researchers, and everyone in between.
Helperbird is built to help students and learners, but it has grown to allow everyone to be more productive and accessible.
1,200,000+ Users around the world using Helperbird each month.
170+ Countries around the globe.
4.8+ out of 5, the average review score of Helperbird.
Frequently asked questions
Can't find the answer you're looking for? Reach out to our customer support team.
What is Helperbird?

With a delightfully intuitive and easy-to-use design, Helperbird is your all-in-one extension that provides personalized support to make web pages, PDFs, and documents more accessible and productive to your needs. It is designed to help everyone with the web in a way that suits their abilities learning styles and lifestyle.

Do you offer discounts?

Yes. When you pay for a year upfront, you will get two months free. We also offer discounts for students.

How do I login

We use the email your logged into Google Chrome or your browser. Suppose you need to update your email. Just contact us.

Do you accept purchase orders?

Yes, we do. You can either contact support or visit our purchase orders page.

Do I need a student email for the student pricing?

Yes, we are doing the honour system here. We will follow up to ask for confirmation you are a student.

Is Helperbird Free?

Yes. We give you the basic features for free. Those features will always be free. We have a Pro version, which helps support the development of Helperbird and the costs with the Pro features. We keep our prices as low as possible, which lower than others. If you have any questions I would love to answer them.

Can we cancel at any time?

There's no minimum contract for Helperbird — cancel at any time without penalty or hassle.. To cancel, open up the app, go to the subscription option, and click cancel.

Why are we charging for this?

The $6.99 per month is to support the cost of the development of new and upcoming features. We also do a yearly subscription for $60.00 as this is a one-person team.

What browsers does Helperbird run on?

Currently Google Chrome, Mozilla Firefox and Edge. Coming soon on macOS Safari extension and iPad.

I have a suggestion!

Excellent I would love to hear about it! Email [email protected] with your suggestion.

Does Helperbird and OpenDyslexic work on Google Docs?

Yes! Google Docs currently doesn't support some fonts like OpenDyslexic. So we built CSS and support for these fonts.

What if I have more questions?

We'd be happy to answer them.
What our Helperbird customers say
Over 1,200,000 use Helperbird every day. Allowing them to be more accessible and productive on the web.
This extension has been an absolute lifesaver. I have that fantastic combo of ADHD and Dyslexia while trying to go through college. I have difficulty keeping letters in order, seeing the gaps between words, and with ADHD on top, I lose focus A LOT. The immersive reader has been my new best friend. It drowns out the rest of the content on the page, changes the font to something I can read, and highlights the word as it reads to me. My eyes are forced to keep going in the right direction. I can slow down and pay attention to what I'm reading. I don't even have to go back and read the same paragraph 5 times to understand it! The screen overlay has been outstanding for eye strain and being able to distinguish between words and spaces. The custom font and spacing for research articles have been an enormous advantage! I can actually read the research papers now and not have this daunting 2 column fine print page to squint over.All around, this has been the best purchase I've ever had. I use this every day, with every assignment. I don't even struggle with story-based questions anymore. The immersive reader helps me read, listen, and understand the question all at once. I am still exploring what I can use this with and how it can make my academic career, and I keep getting impressed with every new way I find to use it. Seriously, try it out. You won't regret it at all. Even if you don't have dyslexia or ADHD, just try it out. You might find that it helps you understand the content you're trying to learn even better!

Mason Hunter

Helperbird user

This tool helps so many of our students at school - not only those students who have dyslexia, but students and adults who have other learning differences (and those who don't!). It helps ensure that all students have the opportunity to succeed in their learning!

Kim Norris

Helperbird user

Helperbird is an excellent extension supporting a range of learning differences. Aside from providing many evidence-based dyslexia-assistive tools, the extension also functions as an easy-to-use, feature-rich web experience customization tool suitable to support a wide range of cognitive differences (i.e., color blindness and ADHD-related focus concerns, among others). Also, the developer is a very good person who supports the various learning-different communities in many ways, including by designing the free version of Helperbird to provide enough functionality to be beneficial to people who cannot afford to subscribe to the full-function version.

Kirk Smith

Helperbird user
Love this extension works beautifully overall.

I have been trying to find ways to make my child happy to go to school again, and someone recommended helperbird. She loves helperbird, and she is now much happier about the idea of returning to school. I think this might be a game changer, as they do so much web based schoolwork and research. She says they really understand people with dyslexia

Let me tell you, I didn't know how badly I needed this until I got it. It was much like when I got glasses, I had just assumed that was how everyone saw the world...then it wasn't. Thank you Helperbird for the efforts you put forth in this lovely extension for everyone to use. The fact that you can use so much on the free just goes to show that this is something to help aid people not just some money grab. However with the pricing it still couldn't be a money grab. Thank you all again for the efforts you put forth so others can enjoy the internet more fully.

Matthew Burns

Health care worker
this extension is amazing and has helped improve my productivity robert has also been a very nice person to deal with when I have issues the live chat feature is amazing and quick for a response it's a really great Chrome extension that helps a lot way worth the money I pay per month and is also just great to support great people making accessibility tools

Jack Salem

Helperbird user

Awesome! I don't suffer fatigue when I use this extension. Highly Recommended

Have an amazing collection of assistive tools that have benefits for everyone. For me, the combination of Microsoft's Immersive Reader and Apple's reading machine voice (US Alex) makes Helperbird my first choice for processing web content.

Jim Sprialis

Assistive technology specialist
Award winning support
Always a human, never a bot. The hands-down, sharpest, and friendliest support team in the ed-tech world. Contact us and we'll get back to you in 5 minutes or less
See pricing
Contact support