Helperbird for
iPad & iPhone
Helperbird for iPad and iPhone brings all the accessibility and productivity tools to iOs. Including Immersive reader, dyslexia support, text to speech, and much more.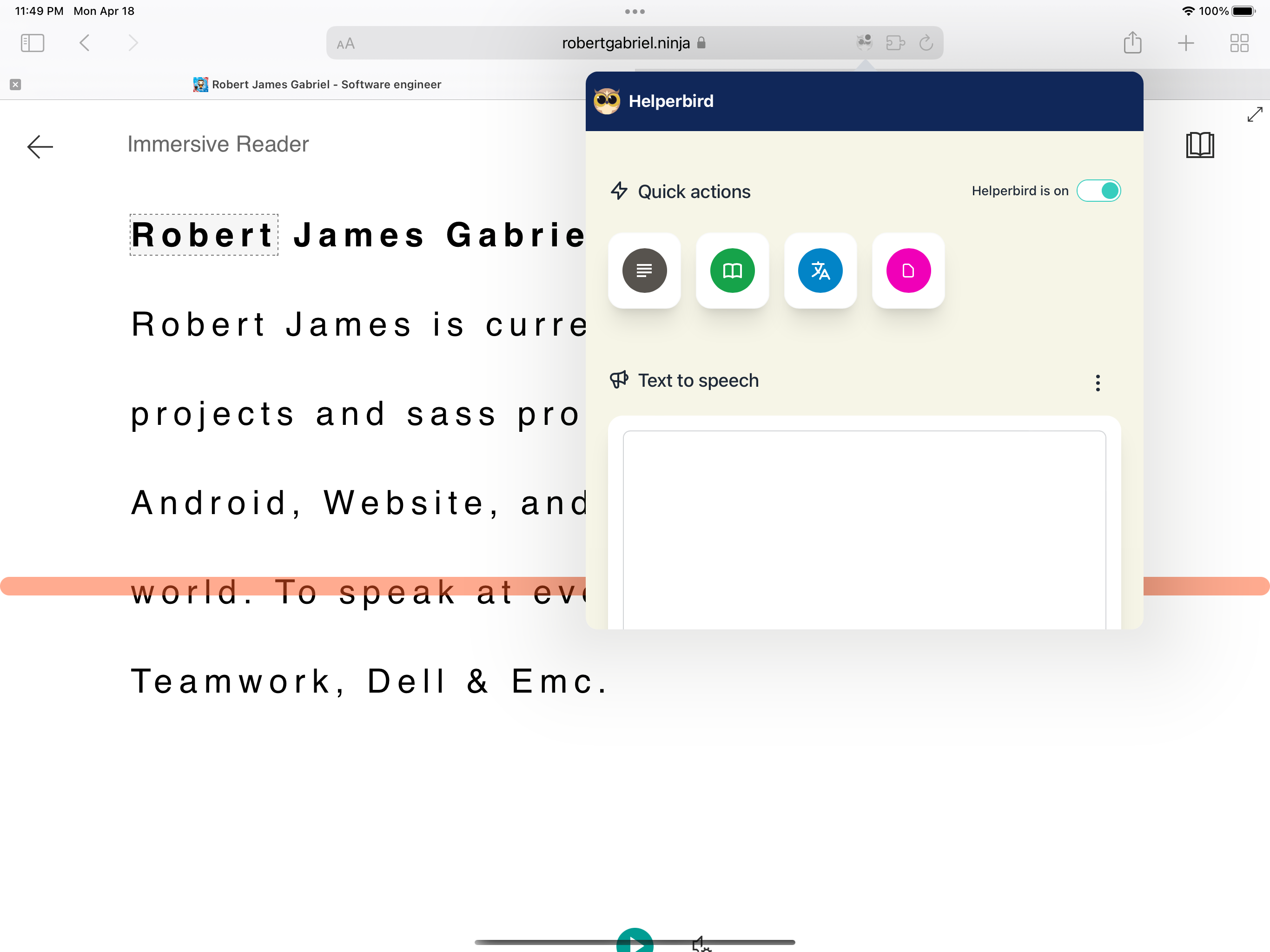 TRUSTED BY OVER 1,100, FORWARD-THINKING USERS





Features at glance
Helperbird offers a range of power tools to customize the web to your needs to improve your accessibility, reading, writing, studying, and productivity needs.
Game-changing features like Reading Mode, Immersive Reader by Microsoft, Dyslexia support (Fonts, rulers, overlays), text to speech with natural voices, text extracting, translations, word prediction, voice typing, and 28 other features.
What our Helperbird customers say
Over 1,100, use Helperbird every day. Allowing them to be more accessible and productive on the web.
I've been meaning to write this review for a while now. My daughter is newly diagnosed with dysexia and I heard an interview with Robert on a Newstalk podcast and sought it out. I wasn't sure if I had it installed correctly on her laptop and Robert was on straight away to help. He was amazing. This app has changed everything for my daughter. Everything is accessible to her and everyday tasks and schoolwork are so much easier. She also has visual stress so the coloured overlay feature is a game changer for her. I would highly recommend this app to anyone, she couldn't be without it now!

James Summer

Helperbird user

wonderfull

Ayman Mahrous

Helperbird user

I've been meaning to write this review for a while now. My daughter is newly diagnosed with dysexia and I heard an interview with Robert on a Newstalk podcast and sought it out. I wasn't sure if I had it installed correctly on her laptop and Robert was on straight away to help. He was amazing. This app has changed everything for my daughter. Everything is accessible to her and everyday tasks and schoolwork are so much easier. She also has visual stress so the coloured overlay feature is a game changer for her. I would highly recommend this app to anyone, she couldn't be without it now!

James Summer

Helperbird user
Helperbird is an excellent extension supporting a range of learning differences. Aside from providing many evidence-based dyslexia-assistive tools, the extension also functions as an easy-to-use, feature-rich web experience customization tool suitable to support a wide range of cognitive differences (i.e., color blindness and ADHD-related focus concerns, among others). Also, the developer is a very good person who supports the various learning-different communities in many ways, including by designing the free version of Helperbird to provide enough functionality to be beneficial to people who cannot afford to subscribe to the full-function version.

Kirk Smith

Helperbird user
Award winning support
We're here to help
Always a human, never a bot. The hands-down, sharpest, and friendliest support team in the ed-tech world. Contact us and we'll get back to you in 5 minutes or less