Helperbird for
iPad & iPhone
Helperbird for iPad and iPhone brings all the accessibility and productivity tools to iOs. Including Immersive reader, dyslexia support, text to speech, and much more.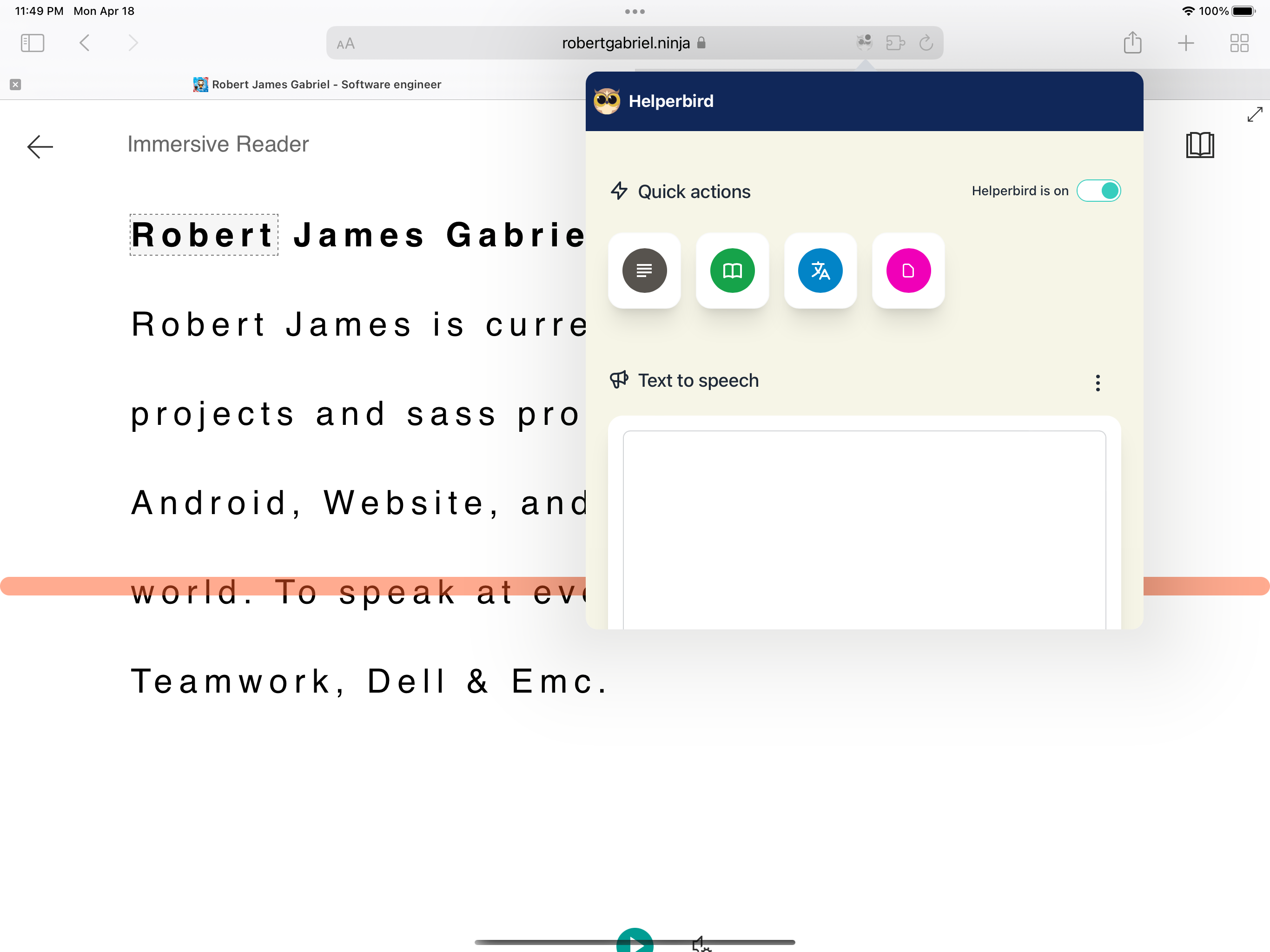 TRUSTED BY OVER 1,200,000 FORWARD-THINKING USERS





Features at glance
Helperbird offers a range of power tools to customize the web to your needs to improve your accessibility, reading, writing, studying, and productivity needs. Game-changing features like Reader Mode, Immersive Reader by Microsoft, Dyslexia support (Fonts, rulers, overlays), text to speech with natural voices, text extracting, translations, word prediction, voice typing, and 28 other features.
What our Helperbird customers say
Over 1,200,000 use Helperbird every day. Allowing them to be more accessible and productive on the web.
This extension has been an absolute lifesaver. I have that fantastic combo of ADHD and Dyslexia while trying to go through college. I have difficulty keeping letters in order, seeing the gaps between words, and with ADHD on top, I lose focus A LOT. The immersive reader has been my new best friend. It drowns out the rest of the content on the page, changes the font to something I can read, and highlights the word as it reads to me. My eyes are forced to keep going in the right direction. I can slow down and pay attention to what I'm reading. I don't even have to go back and read the same paragraph 5 times to understand it! The screen overlay has been outstanding for eye strain and being able to distinguish between words and spaces. The custom font and spacing for research articles have been an enormous advantage! I can actually read the research papers now and not have this daunting 2 column fine print page to squint over.All around, this has been the best purchase I've ever had. I use this every day, with every assignment. I don't even struggle with story-based questions anymore. The immersive reader helps me read, listen, and understand the question all at once. I am still exploring what I can use this with and how it can make my academic career, and I keep getting impressed with every new way I find to use it. Seriously, try it out. You won't regret it at all. Even if you don't have dyslexia or ADHD, just try it out. You might find that it helps you understand the content you're trying to learn even better!

Mason Hunter

Helperbird user

Helperbird is an excellent extension supporting a range of learning differences. Aside from providing many evidence-based dyslexia-assistive tools, the extension also functions as an easy-to-use, feature-rich web experience customization tool suitable to support a wide range of cognitive differences (i.e., color blindness and ADHD-related focus concerns, among others). Also, the developer is a very good person who supports the various learning-different communities in many ways, including by designing the free version of Helperbird to provide enough functionality to be beneficial to people who cannot afford to subscribe to the full-function version.

Kirk Smith

Helperbird user
Love this extension works beautifully overall.
Award winning support
We're here to help
Always a human, never a bot. The hands-down, sharpest, and friendliest support team in the ed-tech world. Contact us and we'll get back to you in 5 minutes or less