"
Voice typing
"
Helperbird has that.
Rated 5 stars by over 500,000 people.
Helperbird is your all in one accessiblity tool providing personalized support for browsing, reading, and writing on the web.
Whether you're reading a movie review or writing an email, Helperbird can make web pages, PDFs, and documents more accessible and productive to meet your needs
Reading features
At Helperbird, we've designed reading features that make reading online easier and more enjoyable for everyone.
See all reading features
Distraction-free reading

Our distraction-free reading features, such as Reading mode, Immersive reader, and Highlight menu, provide a seamless and immersive reading experience. Features like dyslexia support and reading rulers cater to specific needs and preferences.

Customization

Customize everything from fonts and colors to spacing, borders, and images on the page. Additional features like Picture dictionary and Text-to-speech with natural voices cater to individual needs, making reading a personalized experience.

Accessibility

Accessibility features, such as dyslexia-friendly fonts, text-to-speech, and background color options, enable individuals with dyslexia and visual impairments to access and enjoy online content with greater ease and inclusivity.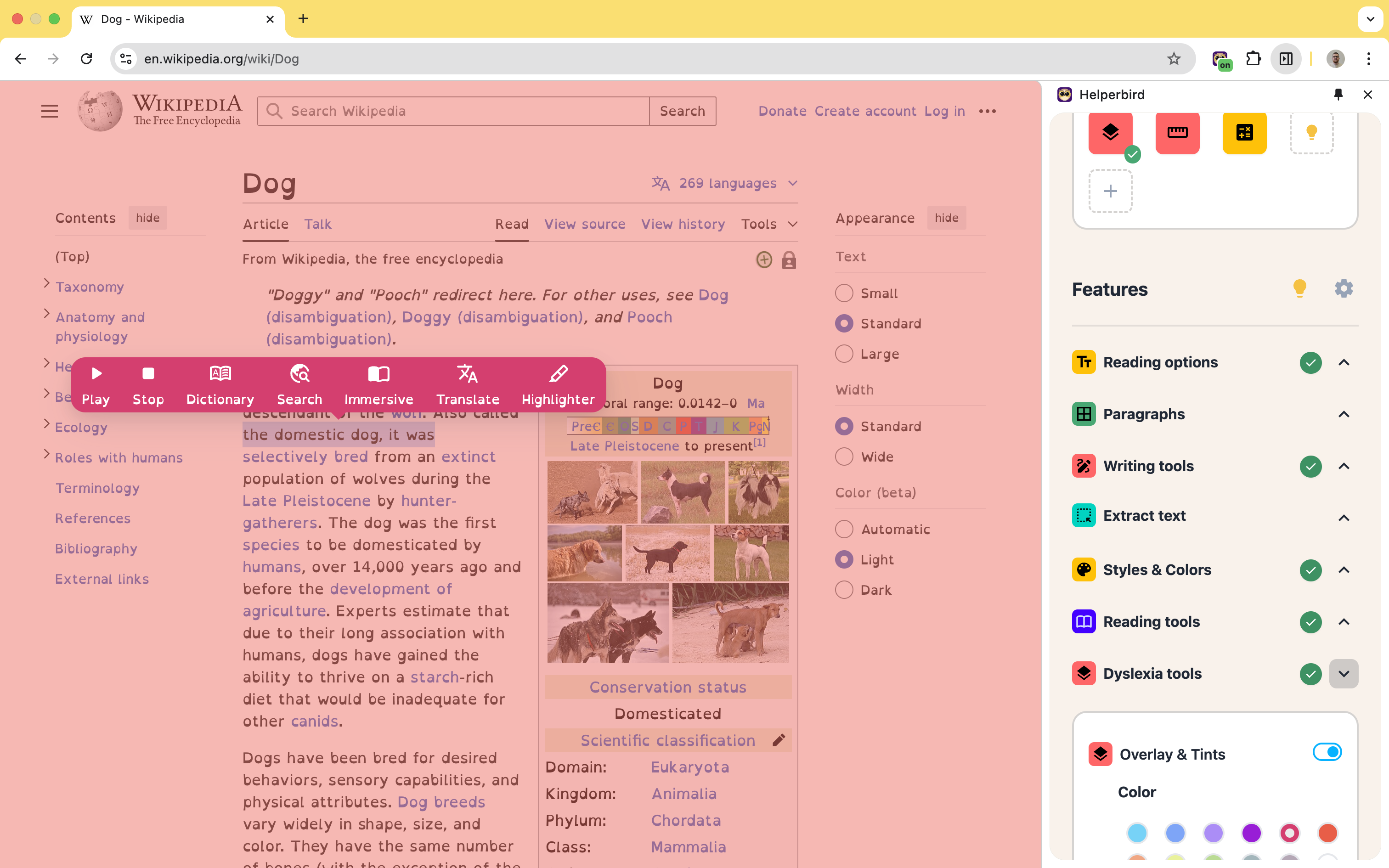 Writing features
Helperbird's Writing features offer a comprehensive set of tools to help you write with accuracy and ease.
See all writing features
Text-to-Speech and Voice Typing

Our voice typing feature allows you to dictate your ideas quickly and accurately, while our text-to-speech feature lets you hear your written work read aloud to identify errors and improve flow.

Spelling and Grammar Support:

Our spelling and grammar checker catches mistakes and offers suggestions for corrections, ensuring that your writing is error-free and polished.

Word Prediction and Notetaking

Our word prediction feature suggests words as you type, making writing faster and more efficient. Additionally, our sticky notes and highlighting tools help you keep track of ideas, quotes, and references as you write.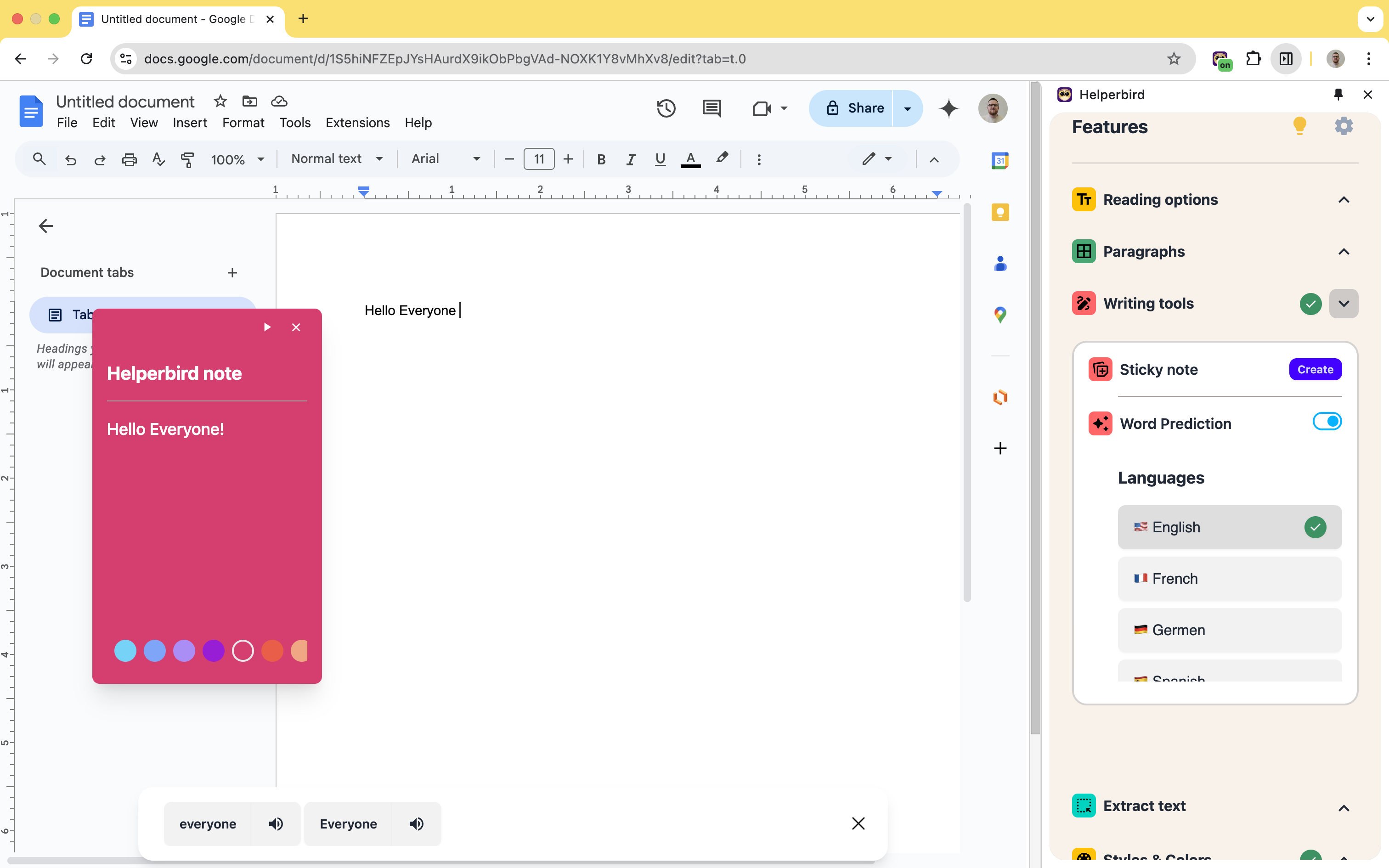 All things accessibility
Empower users with disabilities. With our text-to-speech, dyslexia support, and other features, we empower users with disabilities to access and engage with web content on their terms.
See all accessibility features
Dyslexia support

Dyslexia support includes font and background color options, as well as specialized features like reading rulers and picture dictionaries to aid in reading and comprehension.

Immersive reader & Paragraph styling

The immersive reader feature and paragraph styling options provide a customizable and distraction-free reading experience, making it easier to focus on the content.

Keyboard shortcuts

Keyboard shortcuts allow for quick and easy navigation and use of Helperbird's features without relying on a mouse or touchpad.

Color overlays & Reading ruler

Color overlays and reading rulers provide visual aids to help users with reading difficulties or visual impairments.

30+ voices and translation support

30+ voices and translation support allow you to customize your reading experience with a range of voices and translate text into multiple languages.

Extract text/OCR

The extract text/OCR feature uses advanced optical character recognition technology to convert images and scanned documents into editable text, making it easier to work with digital content.

Highlighter & page summarizing

The highlighter and page summarizing features allow for efficient note-taking and quick access to the main points of an article.

20 other features

30+ accessibility tools, including customizable themes, picture dictionary, and text-to-speech. It's a powerful solution for improving your online experience.
Features at a glance
Helperbird offers a range of power tools to customize the web to your needs to improve your accessibility, reading, writing, and productivity needs.
Game-changing features such as Reading Mode, Immersive Reader, dyslexia support, text-to-speech with natural voices, text extracting, word prediction, voice typing, and 28 other features to transform your web experience.
Frequently asked questions
Can't find the answer you're looking for? Reach out to our customer support team.
What is Helperbird?

With a delightfully intuitive and easy-to-use design, Helperbird is your all-in-one extension that provides personalized support to make web pages, PDFs, and documents more accessible and productive to your needs.

It is designed to help everyone with the web in a way that suits their abilities learning styles and lifestyle.

Do you offer discounts?

Yes, we do offer discounts! If you pay for a yearly subscription, you will get two months for free.

Let us know if you have any other questions about pricing or discounts.

Do you accept purchase orders?

Yes, we do accept purchase orders. If you would like to place an order using a purchase order, please contact our sales team to discuss the details.

They will be able to provide you with the necessary information and help you complete the process. We look forward to working with you!

Do I need a student email for the student pricing?

No, you do not need a student email to take advantage of our student pricing. We operate on an honor system, so you can simply certify that you are a student when you sign up for the discounted rate.

This means that as long as you are a student at the time of your subscription, you are eligible to receive the student pricing, regardless of the email address you use to sign up.

We trust that our users will be honest about their student status and respect this discount.

Is Helperbird Free?

Yes. We give you the basic features for free. Those features will always be free. We have a Pro version, which helps support the development and costs with the Pro features.

We keep our prices as low as possible, much lower than others.

Can I cancel Helperbird at any time?

There's no minimum contract for Helperbird.

You can cancel at any time without penalty or hassle.

Why are we charging for this?

Helperbird charges for its service in order to cover the costs of developing and maintaining the product. This includes expenses such as programming and design work, server costs, and customer support.

While we do offer a free version of Helperbird, it includes only a subset of the features and functionality available in the paid version.

We believe that the value and convenience of Helperbird are well worth the cost, and we hope that you will find it to be a valuable tool for your productivity and learning needs.

Do you accept suggestions?

Yes, we love suggestions! Please let us know if you have any ideas for improving our product. Please email

[email protected]

with your suggestion.

Why do some Helperbird features not work on Google Docs?

Helperbird's features may not work on Google Docs due to a change in the way that Google Docs renders text using Canvas, a bitmap graphics API, rather than HTML.

How do I login to Helperbird?

Helperbird uses the email that your logged into your browser with. To learn how to login or use your subscription key, follow the link below.

How to login to Helperbird

What if I have more questions?

If you have more questions or need further assistance, please don't hesitate to reach out to our customer support team. They are always happy to help and will do their best to answer any questions you may have. You can contact them through our website or by emailing

[email protected]

.

We look forward to assisting you!
Hear From Our Satisfied Users
See what over a million people who enhance their online accessibility and productivity daily with Helperbird have to say.



Make the web more accessible & productive
Transform the way you work online and improve accessibility for all with our innovative technology.